Ace Monitoring, our state-of-the-art Remote Monitoring Control Room, connects directly to your car park, combining seamlessly with the latest equipment technology to create a part or fully automated car park solution, depending on your needs.
Our highly trained and experienced team provides secure 24/7 remote monitoring and assistance to your customers. Policy and standard responses can be tailored to each specific site, to suit your needs. This allows us to respond immediately and relevantly to any issues that arise, at any site, maximising efficiencies and customer satisfaction.
Our secure Ace Monitoring service collects real-time footage 24/7 through an extensive and dedicated CCTV network. The Ace Monitoring staff responding to our remote monitoring services are fully trained in all equipment, enabling a high level of seamless support to customers.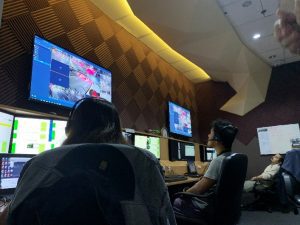 Ace Monitoring 24/7 system includes:
Customisation for each location
Remote intercom assistance services
Remote equipment operation
Pay and display ticket machine faults line
Equipment warning and alarm monitoring
CCTV surveillance (including remote site inspections and intercom assistance)
Mobile Response Units, Customer Service and Equipment Service technicians
These dynamic services have performed a key role in reducing revenue loss and have dramatically reduced false downtime of equipment. That's a better than 99.9% uptime for parking equipment operated and managed by Ace Parking.
Ace Monitoring benefits:
Reducing revenue loss and downtime of equipment
Versatile, flexible and dynamic system
Ability to integrate into existing parking equipment, intercom and CCTV systems Australia-wide
Quick and efficient response times
Fully auditable service, including recordings
Easy dispute resolution through the use of video archives
Redundancy system allowing our operations to continue seamlessly in the event our Control Room facilities are compromised
Ace Monitoring flexible integration
Our staff training program ensures Ace Parking delivers high standards of remote services and continues to provide seamless parking services to the consumer.
Compatible with multiple intercom systems including Commend, Jacques, Dallas Delta and many more, our system enables our staff to provide assistance to users of any Parking Equipment or Access Control system.
The CCTV Video monitoring features 'event mode' screens, allowing the closer monitoring of peak use times of the day, for example, entries during the morning rush and Pay Stations / Exit Stations during the afternoon. Each 'event mode' can be customised to provide the most appropriate video monitoring for each site, region or operation.
Intercom or alarms provide automatic pop-up video images for the control room staff to appropriately respond to the situation for immediate action and resolution. Multiple workstations allow the response to multiple issues, simultaneously.
Ace Monitoring mobile support
For any issues or incidents that cannot be resolved remotely, an Ace Parking Response Unit or Area Manager is assigned to attend the site immediately. On route, an incident brief is provided to the assigned personnel to ensure on arrival they are able to efficiently resolve the issue in the shortest amount of time. Being 'on call' 24/7, they enable Ace Parking to deliver services with confidence and maintain exceptional equipment uptime and minimal revenue loss.
Ace Parking's Remote Monitoring Control Room is certified for its (HSEQ) Occupational Health and Safety System – AS/NZS 4801 and works to ISO9001
Quality Management System.